---
WDHSponsors
April 6, 2016

USA Tour Update.
Early Mornings, Rain Delays, Beautiful Sunshine, Sandy Beaches & Great Results – My USA tour had it all.
I always love travelling to the States, access is a dream, food is great and the weather is usually sublime. Unfortunately this year we were plagued by rain delays at both of the first US ITF 1 tournaments of the year.
The Pensacola Open is a really friendly tournament located in the North West of Florida on the Gulf Coast. I love this area for it's fresh seafood and beautiful sunsets, a perfect way to wind down after a day on court. I felt really good going into this tournament having used the time since returning from Australia to work on some specific areas of my game and it felt like things had finally clicked.
Although there were some tough conditions to deal with in Pensacola with strong winds and lots of rain delays which led to early morning starts and lots of waiting around.
But I was really happy to reach the SFs and then produce a season's best performance beating the World No. 3 and London 2012 Silver Medalist Aniek Van Koot (NED) 7-6, 7-5 to reach the final.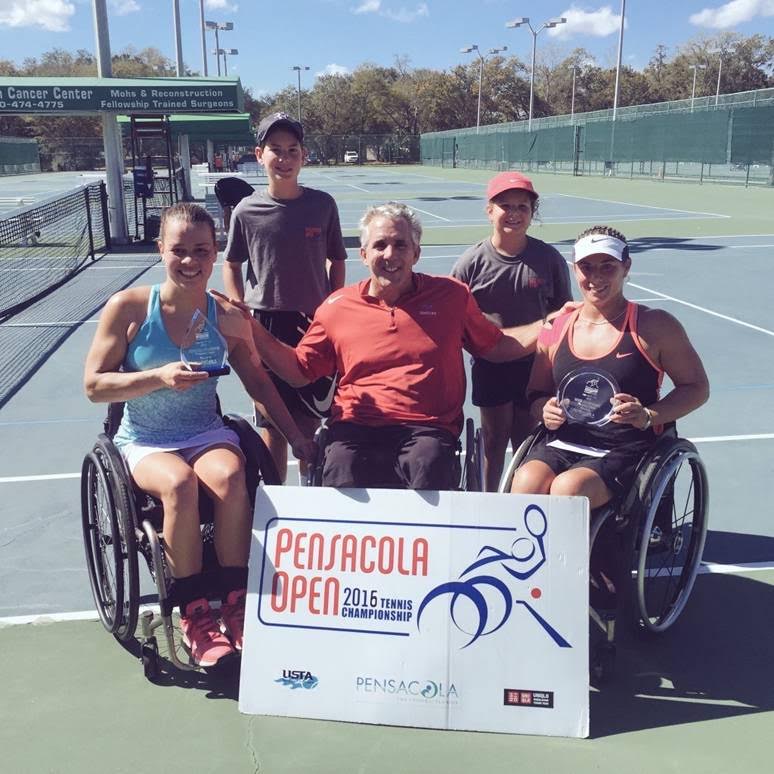 However, unfortunately due to the amount of rain we had had all week the SF and Final were then to be played on the same day; with my gruelling SF match lasting almost 2.5hrs I only had 1.5hrs to compose myself before taking to the court again for the final. I think in some respects this definitely had an effect as my opponent in the final had had a more straight forward SF for her and was perhaps a little fresher going into the match, that said I was incredibly proud of my performance in Pensacola and it brings confidence to my game that things are all going in the right direction.
The second week was based in Baton Rouge, Louisiana. Many of the players often hire cars in order to travel between the two tournaments with the road trip from Pensacola, Florida taking you through the south of Alabama, Mississippi and into Louisiana.
It also allows some down time stopping off at the many outlet malls en route and taking some time away from the court. The outlet malls in the states are fantastic, prices are SO low and I always stock up on presents for the year and sports kit for tennis. I actually had to buy another bag to get my luggage home!!!!!!!
I felt like I was able to continue my good form in Baton Rouge, beating American Shelby Baron in the first round 6-0, 6-0. It was then during my QF the following day that the rain came again, having raced to an early 3-1 lead against an on form World No.#9 Diede De Groot (NED) play was suspended for the day.
The match resumed on Saturday and I was able to close out the first set quite quickly 6-2, however Diedre who is know for her strong groundstrokes came back strong in the second set taking it 3-6, which pushed us into a 3rd set which I was very happy to come through 7-5. Diedre has had some fantastic results recently and is a strong player coming through the rankings so this was a really good result for me and set up another SF against World No.3 Aniek Van Koot.
Again due to the rain delays throughout the week, I was then forced to play my SF with little more than an hour between matches. I had my chances again against the World No. 3 having come back from 1-5 down in the first set to force a tie break, but after the hard 3 sets in the morning I just ran out of steam, eventually bowing out 6-7, 1-6.
It was definitely a good couple of weeks of promising tennis on this tour which I now hope to continue on to my South Africa tour with two tournaments in Johannesburg in April.
That's all for now,
Lucy Shuker
(6th April 2016)
For the best seats in the house and to see Lucy and other athletes play in the UK, purchase Wimbledon Tickets today.
Browse the blog
---
Latest Posts
---