---
WDHSponsors
October 3, 2018
Lucy Shuker writes:
Hi all,
A final update from the American Tour!
As my American string of tournaments come to a close; I would like to say a massive thank you to Somerset LTA for their support over the past few weeks, funding Zoe Leach to come out to both my final two competitions in Hilton Head and Montréal.
Somerset LTA
have been huge supporters throughout my tennis career. In the very early days while I was just taking up wheelchair tennis after my accident. It was Taunton Tennis Club that were so welcoming, offering me a place to train and be coached at Blackbrook Tennis Centre. It was then here that I met my first Coach, Natalie Ayton and our partnership which lasted over 10 years saw us achieve many successes together including 2 Paralympic Bronze Medals. I will always be incredibly grateful to Nat for instilling in me a huge desire to push the boundaries of my disability and what I could achieve.
During my time at Taunton Tennis Centre
I was also lucky enough to work with a number of other Somerset coaches including Zoe Leach, Debbie Hale, Alec Blake and Anna Howe. Zoe in particular took a pivotal role in my set up in the lead up to the Rio Paralympics and was instrumental in helping me achieve the success I had there. All Somerset coaches that I have worked with continue to be huge supporters of my tennis and take time to support me in competitions around the world.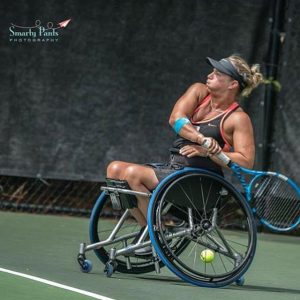 I always look forward to going back to Hilton Head each year
This year was an important process of resetting and rebuilding some confidence on court. I played some tough matches here, in the semi final against Natalie Mayara I had to find a way back from a set and 2-4 down to win the match and again in the final it was a tough fight against Japanese, World No.12 Tanaka. However, I was truly delighted to come through both these tests and win the title for a record 7th time.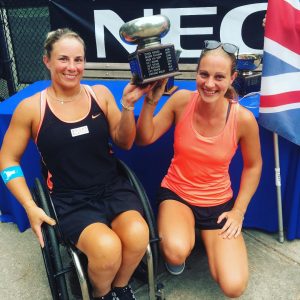 Heading to Montreal
an indoor tournament with a different dynamic but a similar draw saw me face Mayara again in the semis. I was delighted to put in a much better performance and secure a win; being a set and 2-0 up when Mayara unfortunately had to retire due to an elbow injury. This is never the way you want a match to end; and I hope that Natalia is able to make a good recovery.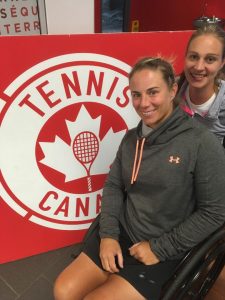 In the final again against Tanaka it was disappointing this time that I wasn't able to play my best tennis. On the day I struggled to execute my game and finished the match a bit frustrated. However hats off to my opponent she played a better match and was a thoroughly deserved winner. I first met Tanaka around 4years ago at the Japan Open. I have watched her train incredibly hard to improve her game so quickly I know going into any match with her that it is going to be a tough fight.
I'm now looking forward to a week of rest before heading back to train hard ahead of the final competitions of the year which include Bath Indoors. Doubles Masters in Holland and Singles Masters in Orlando.
Thank you once again for all your support.
Lucy x
Browse the blog
---
Latest Posts
---