---
Locker Room
November 17, 2016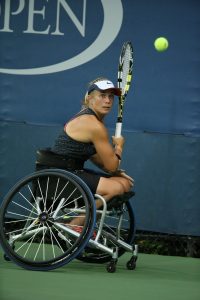 Following some good results and performances in the first part of the year, the summer of 2016 proved to be a tough one. Things did not quite go my way on the tennis court, despite having got myself into some of the best shape of my career.
Let me explain. The last few tournaments before the Paralympics in Rio were always going to be tough. I was up against the best players in the world and it is always at this point that sometimes my level of disability can become somewhat frustrating, as smaller margins come into bigger play.
I often feel if only I was a little bit taller, had a little more balance or my arms were slightly longer, perhaps I could turn a close match into a successful result.
Even so, I have throughout my career persevered and always strived to be the best I can be. The summer for me started at Roland Garros, where I lost in three sets to the eventual winner, Marjolein Buis. She was on great form there and even then I still feel I had my chances but just couldn't take them on the day.
At Wimbledon a few weeks later, I went out to my GB doubles partner, Jordanne Whiley, which also hurt. This was the first time that wheelchair singles were played at the Championships and I think there was a resounding uncertainty about how that would go for us all, with grass a much more difficult surface to manoeuvre our chairs on. For me, in particular, this would always be tough.
That said I feel the surface lends itself to my varied game, but on the day I think I let the uncertainty about the surface and what game plan I should be adopting overshadow the task in hand. I came away from Wimbledon feeling disappointed with my performance but also excited to hopefully return in 2017 with a better idea about how I should approach these matches.
At the beginning of August, following a disappointing block of European tournaments, I found myself fighting for the last seeding position for Rio at World No 8. The points were extremely close between World Numbers 8, 9 and 10.  There was an opportunity to get back to winning ways at a tournament in Italy in August, where victory may have helped secure this position for me.
However, it was also a case of weighing up chasing points for seeding or preparing properly for the Paralympics, where I had a great chance to go for another medal in the women's doubles. At this point in time, I think I still wasn't ready to give up the singles seeding and my temptation was to still chase the points.
It was actually my support team who suggested that I'd be better off taking a break instead, to recharge physically and mentally. I listened and I took their advice, even though it hurt at the time to let it go. Reflecting now, I think it was the best decision for me. I actually ended up taking five days away from tennis and booked a last-minute trip to Menorca, where I just sunbathed by a pool, used the gym and enjoyed some fantastic fresh seafood.
I came back feeling refreshed and worked hard in the last four-week training block ahead of the Paralympics. I was now feeling in a good place physically and mentally for Rio, I was ready to go.
Similarly to the other Paralympic GB sports, as a Tennis Foundation team, we headed out to Brazil early for an acclimatisation camp. This was a great opportunity to acclimatise to both the altitude and temperature difference – and was down to the investment of UK Sport and the National Lottery.
As the draw was made for Rio, and my world ranking was now at No 10, I was due to face World No 1 Jiske Griffioen in the second round. A tough draw for me but despite this, I felt I played well and definitely came away from the match feeling positive about my performance, having pushed her and had opportunities. Jiske went on to win the Gold Medal.
In the doubles, I played some of my best tennis, and although Jordy and I didn't get through to the gold medal match and that was disappointing, we had one last shot at a medal when we came up against Yui Kamiji and Miho Nojo of Japan, to decide who took home bronze.
It was tough for Jordy in a way, because she was playing against one of her best friends and her regular doubles partner in Yui. That's not necessarily a simple situation emotionally when you think about it. Yui is an extremely talented doubles player and the current doubles World No 1, so this was not going to be an easy match.
We won the first set convincingly but fell apart a little in the second set, which meant it was all to play for going into the third. We just had to find a way to come through together. We managed to execute our game plan really well to take the third set 6-1, and win that bronze for Paralympics GB. I felt really positive about the way I played this match, but even then my emotions were mixed, and remain so, with regard to that medal.
It's great, of course! You're on the podium! But there is still a hint of disappointment because at the back of your mind you wish it was silver or gold, the one you trained and came for.
Still, after the medal ceremony, I was able to have a nice little celebration dinner with my family and friends.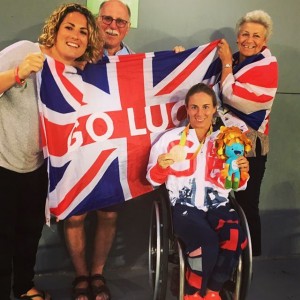 In sporting terms, I was still hungry for success and so desperately wanted to get my world ranking up to give me a chance of qualifying for both the end-of-year Singles Masters in London and hopefully the Australian Open in January. This is why I went straight out to the US following Rio. That was my choice and I went for it.
First up was the PTR Championships at Hilton Head, South Carolina – and ITF 2 event. This is one of my favourite tournaments on the circuit. The tournament organisers are so friendly and I've had some great successes in the past there. I started the tournament ranked tenth in the world, but I went on to beat the two players ranked above me – Germany's Katharina Kruger and South Africa's Kgothatso Montjane – to win the title.
Next up was the US Open USTA Championships in St Louis, a Super Series event. With another tough draw, I faced the up-and-coming American player, Dana Mathewson in the Quarter Finals. This was a really tough three-set match, lasting over three hours! I was delighted not only to come through this but also to put in another winning performance against Montjane in the semi-finals. That left me facing another American, Emmy Kaiser in the final. I beat her 6-3, 6-1 to take my first career Super Series title.
Despite the top-ranked players in the world not being at the tournament, I still felt incredibly proud to win my first Super Series title, as I had to beat players ranked above me and it was not an easy draw.
The final tournament of this tour was the Tennis Canada International in Montreal. I only dropped two games on my way to the final, where I faced Dana Mathewson again. This was a huge fight – and I eventually won 6-7 (2), 6-2, 7-5. It was a tough match and one where, mentally, I think I lost my focus in the middle of the match.
I had been 5-2 up in the first set; so it was disappointing to let that go and then find myself 2-5 down in the third set, so it was actually a really good feeling to come through that. You can imagine how happy I was to win three titles, back-to-back.
It was then a quick dash back to the UK, with just enough time to drop off my bags, have a bath and get dressed up to join the rest of the Olympic and Paralympic celebrations in London.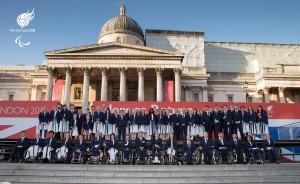 I attended a reception at Buckingham Palace with the other Olympic and Paralympic Medalists. The reception was hosted by the Queen and Prince Phillip. Her Majesty asked me what sport I played, and showed a real interest in every single athlete there.
She was stunningly dressed, and it was such an honour to speak with her and other members of the Royal Family including Kate (The Duchess of Cambridge), who loves tennis and even watched some of the wheelchair tennis at Wimbledon this year. It was a lovely occasion.
I also met the Duchess of Gloucester at an event held at St James' Palace the following week, which was a fantastic event to celebrate the success of all the Tennis Foundation team in Rio. These events, hosted by royals, were also a marvellous way to round off a great few months for me.
Writing this blog, I've just returned from California, where I've had some more success at our end-of-year Doubles Masters. Partnering Diede De-Groot, Paralympic Doubles Silver Medalist, for the first time, we were unbeaten in our bid for our first Doubles Masters title together.
I really enjoyed being on the court with Diede and am absolutely delighted to have secured my first Doubles Masters title, having previously been a runner-up three times at this event.
Next up for me is an ITF 1 Tournament in Bath, where I will compete in both the singles and doubles draw. Partnering with Diede again in the doubles, I hope to continue our success, as well as build on the momentum I have gained in my singles game. I have now returned to World No 8; and so my final tournament of the year will be the NEC Wheelchair Singles Masters, where I join the seven players ranked above me.
Although it will be physically gruelling to play a series of matches against the best players in the world, I'm excited about it too, and about the form that I'm currently in.
The 2016 NEC Wheelchair Singles Masters will be held at the Lee Valley Hockey and Tennis Centre on Queen Elizabeth Olympic Park from 30th November – 4th December. It is a fantastic opportunity to watch all the top players in action and it is a great spectator and family day out.
Tickets for the event are available here:
https://www.lta.org.uk/major-tennis-events/british-major-events/british-open-wheelchair-tennis-championships/
I hope to see you there.
Love, Lucy x
Browse the blog
---
Latest Posts
---