---
Locker Room
January 9, 2017
With a new year comes new feelings and new chances. I start 2017 with the same dreams but I am looking forward to the fresh start and the opportunities ahead of me.
The Christmas period was a real opportunity to reset and reflect. Christmas can be about whatever it means to you personally, and for me it is all about spending time together with my family.
This year my parents rented a beautiful cottage in Duloe which is near to the Cornish fishing town of Looe. On Christmas Eve we had a huge family get together with my parents, friends of the family and my partner's family and it was a really fun time together.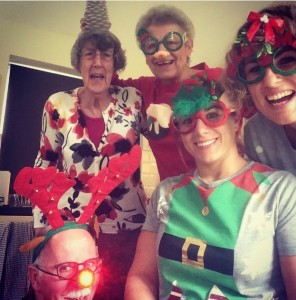 The only shame was that my brother, his wife and my nephew couldn't be with us. They are currently living out in Hong Kong, but of course we raised a glass to them, and managed to share some of the Hong Kong Christmas morning with them via Face Time.
I've been told that this Cornish location used to be known for its shark fishing, but I think my amazing experience with sharks last year in South Africa, when I saw them at very close range from a submerged cage, was so rewarding that you can count me out of ever fishing for them!
Instead Christmas for me and my family is all about the simple things that Christmas brings, putting down your phones and enjoying each other's company. Playing games and doing jigsaw puzzles and the kind of things I've always done with my family ever since I was little.
As a tennis player, Christmas is always a nice time to reset and enjoy some good food, but for us the season starts in January and therefore we are always deep in training.
I was back on the 27th, preparing for an Australian tour which will see me compete at the Apia International in Sydney, then a warm-up tournament in Melbourne before the big one, the Australian Open at the end of January. In fact I had already landed in Australia before the end of the first week of January!
I arrived in Australia with a strong finish to 2016 behind me. Winning the bronze medal at the Rio Paralympics, and later winning three successive singles tournaments in North America was such a great feeling.
Claiming my first Doubles Masters title was a definite highlight and a tournament I very much enjoyed.
At the singles year-end finals in London, I still felt I was playing some of my best tennis, and should have closed the first set against the world number 3, Yui Kamiji there. Who knows what might have have happened next, if I had done so?
I'm excited about my potential in 2017 and I'm ready to give it my best shot as always and work hard.
I hope you'll follow my progress as the year unfolds.
Thank you so much to everyone who supported me in 2016.
Love Lucy x
Browse the blog
---
Latest Posts
---