---
Wimbledon
July 4, 2019
With Harriet Dart sensationally through to play top seed Ashleigh Barty at Wimbledon, take a fresh look at our WDH exclusive with Dart back in March.
See how her love of grass, patriotic British crowds and her strong work ethic have taken her so far.
And understand why being ditched by Jay Clarke for Coco Gauff in the mixed doubles must have hurt her so much.
Well done Harriet. What a way to bounce back! WDH applauds you!
For Harriet Dart, a whirlwind nine months have offered an enticing taste of the big time.
A Wimbledon semi-final and Fed Cup glory, with the chance to make some more history just around the corner.
These are heady times, but the momentum could take her a long way.
And when you listen to the 22-year-old Londoner, you are struck by her patriotism and her hunger for more success.
Just as well, because more heroics will be called for in the Fed Cup next month, when the GB women seek to build on what they have already achieved.
In February, Dart was part of an undefeated GB team that swept aside Slovenia, Greece, Hungary and Serbia in a raucous arena in Bath.
April will see the team face Kazakhstan in the World Group II play-off at the Copper Box Arena in London's Queen Elizabeth Olympic Park.
GB are hoping to return to the World Group for the first time since 1993.
Harriet Dart, who has formed a great doubles partnership with Katie Swan, wants to taste that special feeling once more.
She told WDH: 'Playing the Fed Cup has to be up with my most special memories. Playing for my country is like nothing else that I've experienced before.
'The whole experience has been incredible and it's something I'll cherish for the rest of my life.'
The partnership with Katie didn't gel by chance. Harriet added: 'I think being such good friends off the court creates a good chemistry for when we play together on court. She's a great player and I think the style of our games  compliment each other nicely.
'It's certainly nice to get rewarded for all the hours we've put in. I'm always striving and hungry for more, so I'll keep pushing and working hard to achieve greater things.'
A fierce work ethic and the ability to learn from each experience on court. These values are important to Dart, as she faces the highs and lows of tennis.
The thrill of facing Maria Sharapova at the Australian Open was tempered by a 6-0, 6-0 defeat which left her in tears. But not for long.
Within minutes she was saying: 'I won more points than I thought I had. I came through qualifying, so that's something to be positive about.'
Harriet's philosophy is simple but effective. She told WDH: 'I learn from both winning and losing. I think it's important to continue learning as there is always something to improve and work on.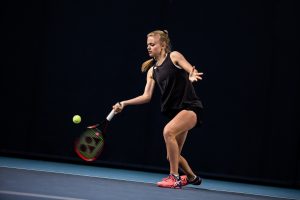 'It's vital to listen to my coach and my team around me as sometimes I can't remember certain things happening on court as I'm so focused during the match, it's hard for me to see.'
That focus made Wimbledon 2018 an unforgettable experience for Harriet. First came the very respectable first-round singles defeat to Karolina Pliskova in three sets.
Then came a sensational mixed-doubles run with her partner Jay Clarke, which took them all the way to the Wimbledon semi-finals.
Only the experience of big names Jamie Murray and Victoria Azarenka ended that run. But it showed what Harriet and Jay are capable of achieving.
Harriet explained: 'The breakthrough at Wimbledon last year in the mixed doubles was beyond question a little surprise.
'Jay and I are close friends off the court, which enabled us to combine really well. I believe we could win a Slam title together in the coming years.'
And Dart, who was world 132 at the start of the year, has singles ambitions too. She explained: 'I definitely want to break into the top 100 singles in the short term. I truly believe that if you put all your effort into working hard and continuously look to improve, the results will take care of themselves.'
There will be great times ahead, as spring and summer arrive. First, that Fed Cup date with destiny. Then, a matter of weeks later, the grass will beckon.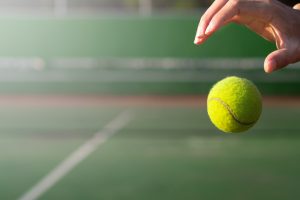 Training will change slightly to anticipate the fresh challenge. Harriet explained: 'With different surfaces my team and I will change up different things we work on.
'For example, over the grass court season we would work on being in an extra low position due to the court surface and demands.'
Despite those extra demands, Dart can't wait for more patriotic fervour. 'Grass is most definitely my favourite surface. Mostly because of the British support at the tournaments, which I love.
'Also being at home is special, given I spend most of the year on the road and abroad.
'Really, having British fans at matches is a fantastic feeling.'
From east to west London, from Fed Cup to Wimbledon, Harriet Dart can look forward to those patriotic crowds in the weeks and months to come.
Through hard work and humility, she has earned the right to that growing love.
To see Harriet in action at Wimbledon 2019 make sure you secure your tickets, visit our Debenture page for prices and availability
Browse the blog
---
Latest Posts
---