---
Wimbledon
August 3, 2018
We had the pleasure of visiting Lucy Shuker during one of her training sessions at Roehampton Club. Lucy shared her Wimbledon experience, her achievements for 2018 so far and what's on the horizon!
Lucy has had such an amazing year so far and with the US Open just around the corner, we are all in for a real treat. We are very proud to sponsor Lucy and we hope you enjoy her catch up as much as we did.
Read Lucy's catch up below.
Lucy's achievements
L'ile De Re – Doubles Champion
French Open – Doubles Finalist
Swiss Open – Singles Finalist
Wimbledon – Doubles Finalist
British Open – Mixed Doubles Champion
 Wimbledon Review
This years Wimbledon Championships marked my 10th Appearance at the All England Club, and having previously appeared in 3 Doubles Finals at Wimbledon, I always go into this tournament hungry for success on the grass, despite it being an incredibly tough surface for me as a player.
A home Grand Slam also comes with it's own excitement. There is a lot more interest in you as a player and Wimbledon have been making huge headway over the past couple of years, promoting our sport and raising public interest. All matches are now available to view on the BBC Red Button, with finals screened live on BBC 2. As a British player you always want to do yourself proud at the Championships. 
I was therefore absolutely delighted to make it through to my 4th Wimbledon Doubles Final. This time alongside Sabine Ellerbrock from Germany. As the oldest women in the competition, we continued to prove that age is no barrier. Sadly the result did not go our way in the final with the No.#1 seeds proving exactly why they are No.#1 and No.#2 in the World respectively.
However, it was incredible to be back in my first Grand Slam final for 5 years and this time in front of a large and enthusiastic home crowd on Court 3. The match was also shown live on BBC 2 before the Men's final. The last time I was in the final at Wimbledon was in 2012 before the London Paralympics, the public interest in the sport was nowhere near what it is now. It is really great to see how far our sport has already come and with the profile continuing to increase year on year, it is an exciting time to be a wheelchair tennis player.
Whats next?
In terms of my tennis, this year I am delighted to be working with a new coach, Luke Mulvihill from Sutton Tennis Academy. Together we have been making some great improvements as I continue to strive to develop as a player everyday. I am really excited about this training blo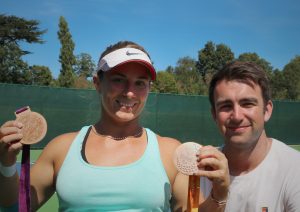 ck, with some real specific targets and structure, it will be great to see how this can positively impact my game as I head out to compete in the US at the end of August in preparation for the US Open Grand Slam in New York.
 We are very proud to sponsor Lucy Shuker and we look forward to continuing to support her.
Browse the blog
---
Latest Posts
---