---
Match Reviews
March 2, 2017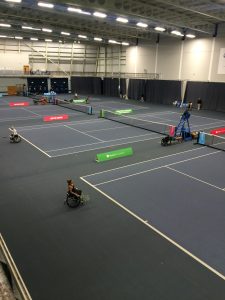 On 22nd February, I travelled over to the bleak and drizzly Bolton Indoors Arena on behalf of the Wimbledon Debenture Holders team, to watch our fantastic wheelchair tennis player, three time Paralympic Wheelchair Tennis Player and Double Paralympic Bronze Medallist, Lucy Shuker.
Upon arrival into the arena, I was instantly in admiration of all the players taking part in the tournament – it was hard to decide which match to watch with so much going on around me!
I was advised Lucy was playing on Court 5 and had just won the first set, so naturally I head straight up to the viewing balcony in anticipation of seeing Lucy play.
Watching the wheelchair tennis in person made me appreciate the sport more so than when I have watched it previously on TV, Lucy's serves were so strong and the speed the players move in their chairs left me not wanting to take my eyes of the match!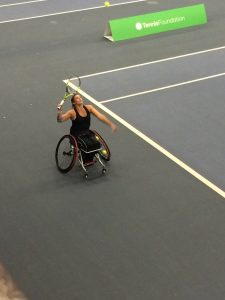 Lucy earned a 6-1, 6-1 victory over fellow Brit Lauren Jones, to set up a meeting with British No.3 Louise Hunt on the third day of the tournament.
Following the match I met up with Lucy and Amy (Lucy's Manager), to have a good chat over a cup of tea whilst watching some more of the matches – I also learnt some interesting facts about wheelchair tennis, one being the ball may bounce up to two times and the second bounce may also occur outside the court – as I questioned Amy about the out of court bounces I witnessed!
We spoke about Lucy's achievements in the Australian Open, her planned successes in Tokyo, raising awareness of disability sport, and of course her number one fan, Johnny Vegas!
Lucy went on to achieve a doubles win in the final alongside Marjolein Buis and was the singles runner up – well done Lucy!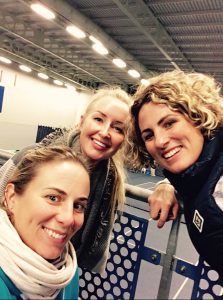 Lucy is an inspiration to many and is passionate about helping build the profile of disability sport around the world. With her sights firmly set on more success Lucy will now begin her journey to Tokyo with the hope of more medals.
WimbledonDebentureHolders.com are very proud to sponsor such a inspirational lady and look forward to following and sharing her successes throughout 2017.
Watching the tennis made me even more excited that Wimbledon 2017 is just around the corner… if you're interested in purchasing tickets for the championships please contact our team: http://www.wimbledondebentureholders.com/contact
Browse the blog
---
Latest Posts
---