---
Locker Room
June 3, 2019
Looking back at the last few weeks, I am still thrilled to have been part of the best GB performance in the 35-year history of the World Team Cup.
The men won gold, the juniors took silver and our women's team took bronze in Israel just a few weeks ago.
If you consider that 23 countries entered teams in what is our equivalent of the Fed Cup and Davis Cup, you get a sense of the achievement and the healthy state of British wheelchair tennis.
A personal highlight for me during the week was beating the Chinese number one, Hui Min Huang in the group stages.
This was a must-win match to keep the tie alive. And bearing in mind that China had reached the final for the previous three years and won it in 2017, it was sure to be a tough test.
I was delighted to come through in straight sets, 6-3, 7-5. This then forced the tie to a deciding doubles rubber.
Having Jordanne back in the team this year really added a lot of strength. She has had quite an incredible come back so far this year following returning after the birth of her son.
We have already scooped two doubles titles together in Korea in April.
I think against China, we played what was probably our best doubles match together ever beating our Chinese opponents 6-1, 6-2 to advance to the semi-finals.
In the semi finals, we were drawn to play Japan. Having this time lost my singles match to World No.#2 Yui Kamiji, it again went down to a deciding doubles.
The Japanese came at us with some strong tactics in the doubles and we just weren't able to find a way into the match. They launched high balls with such a high bounce that we often struggled to return them.
It is up to us to find a way to deal with that next time.
And it is a tactic we will look at closely and try to overcome because I'd love to beat the Japanese in their own back yard at the Tokyo 2020 Paralympics if drawn against them.
But that is something for the future because plenty will happen between now and then.
We then played South Africa for the bronze medal. Jordy first won her singles. So if I could do the same, bronze was ours, even before the doubles.
I lost a close first set against Kgothatso Montjane 4-6 and then won the second 6-1. So I had good overall momentum going into the third set, at 30-0 up on my serve at 1-2 in the decider, when Montjane collided with a fence while trying to reach one of my angled shots.
Unfortunately, she was unable to continue.
Obviously, this is never the way you want a match to finish and I wished her well for her recovery, it is was not nice to see her get injured.
But at the same time, we had every right to feel proud of our bronze, which rounded off a remarkable trip for Team GB.
Sadly this year I won't be competing at Roland Garros as at the time of the cut off I was positioned as World No.#8.
It is only the top 7 players in the world that earn direct entry to compete in the wheelchair tennis draw with the 8th spot being awarded to a wild card chosen by the host nation.
Roland Garros have historically given it to the top ranking French woman and this year proved no different.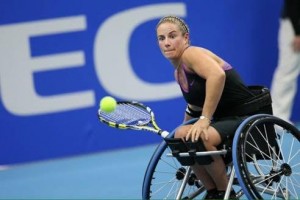 Unfortunately, you can be one of the top doubles players but that won't matter because there isn't a separate entry system for doubles at present.
Instead, the top singles players pair up at the Slams for doubles. All this might change in time with more participants, but not for now.
So my involvement in Wimbledon this year isn't certain either, though I am hoping for the wildcard this time.
Both Jordanne and I, amongst others, will have applied for the wildcard and positioned as World No. 9 and 10 it will be a close call.
Obviously, I would love to compete at my home grand slam and defend the doubles final position that I got to last year. But it is out of my hands and competing at Wimbledon is always such a  huge privilege.
What I can say is that I am thoroughly enjoying my tennis once more, I have a new team behind me and all is going well.
When you go through a tougher patch you just have to trust your processes, work hard and concentrate on doing the right things, which is exactly what I have been doing.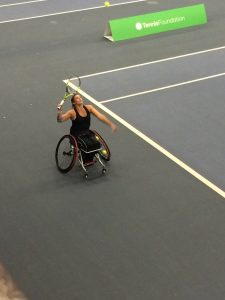 I have a few tournaments in Europe over the summer where I hope to find some success. I've already earned a number of doubles victories including winning three back to back to back tournaments in Korea in April.
Let's hope I can continue to hit the heights moving forward for the rest of the year, and then into the all-important 2020 Paralympic year too!
That's all for now,
Lucy x
Browse the blog
---
Latest Posts
---