---
Locker Room
April 11, 2017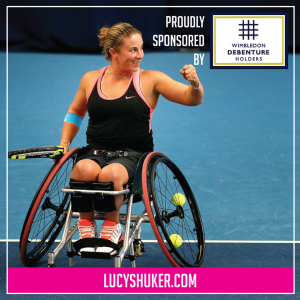 Lucy Shuker produced a stunning performance to take the ITF 2 Series Arizona Open in Tucson, USA.
But she is doing fantastic things off the tennis court too, raising awareness of Alzheimers and Dementia.
In Arizona, Shuker defeated world number four Aniek van Koot of the Netherlands in the singles final.
That meant she came away from Arizona with both the singles and doubles titles in the bag.
Shuker, ranked eighth in the world, notched her seventh career win over van Koot with an emphatic 6-3, 6-2 victory in the big showpiece match.
Perhaps her toughest clash of all had been in the semi final against her doubles partner, Dana Mathewson.
The younger American had taken Shuker to a third set before Lucy triumphed 6-2, 6-7 (3), 6-1, demonstrating her superb fitness in the process.
But the pair tasted glory together in the doubles. Their somewhat anti-climactic clincher was a walkover in the doubles final, when opponents Katharina Kruger of Germany and Kgothatso Montjane of South Africa had to withdraw due to injury.
A sweet victory over American pairing Shelby Baron and Kaitlyn Verfuerth, 6-1, 6-2 had given them the right to call themselves champions in the end.
Meanwhile, off-court, Shuker has been showing her caring side by supporting stRIDE17, a team of inspirational women who decided to set out to ride 450 miles in eight days to raise awareness for the Alzheimers Society and Dementia UK.
The founder of stRIDE17, Virginia Bailey, is particularly passionate about raising awareness, because her father is currently fighting dementia.
The 450-mile ride was designed to take in poignant places from his earlier life, including Liverpool, Shrewsbury, the Isle of Man and North Wales.
Lucy said: 'I've seen from their training how the team work together to motivate one another along the miles, especially uphill.
'Although I've been in South Africa for my next competition, I look forward to joining the girls again when I'm back.
'I'm an Ambassador for the challenge, using my Cougar Power Assist hand cycle, which I have thanks to Team Hybrid. Hopefully I'll do a bit more with the stRIDE17 team then.'
You can learn more about the challenge by emailing stride17@gmail.com, follow them on twitter @stRIDE_17 or donate using stRIDE's fundraising page at http://bit.ly/2owzRNP
Browse the blog
---
Latest Posts
---