---
Locker Room
May 4, 2016
Tennis Stages and Shark Cages!
The Lucy Shuker Blog
Twelve inches away from a fifteen-foot Great White shark!
Yes, it was a phenomenal experience, and a highlight of my recent time in South Africa, which also included wonderful encounters with white lions, rhino and cheetah…and of course some nail-biting tennis too!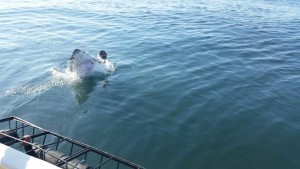 The shark dive was however the most dramatic encounter of all, complicated slightly by the fact that my legs had to be tied together and kept in check under water.
What I found reassuring was the fact Princes William and Harry as well as Brad Pitt had enjoyed a similar experience with the same people ("The Shark Lady"). So if the cage was good enough for them…
POUNDING
That doesn't mean your heart doesn't start pounding as the beautiful Great White approaches. Remember, you've already seen what it can do, even before you're submerged.
First you see the fin, then a dark wall of muscle, then whoosh!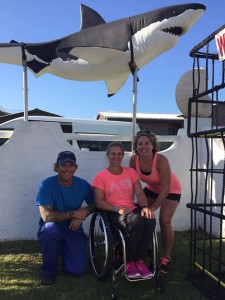 Ten-footers can be tentative at first but the fifteen-footer looked confidently lethal and went straight for the bait. That'a when you see the head, those fearsome jaws opening and a bunch of jagged, destructive teeth scythe into the meat. The ripping power is awesome.
And when that fifteen-footer had closed to within inches of my face, peering through the bars;
It was all I could have hoped for.
SNACK
To be totally honest, I was feeling more sea-sick than scared, even though it was the boat trip of a lifetime.
When you've got a disability and you're trying to squeeze into a wetsuit, sea-sickness is something you can do without.
THRILL
So I suffered a bit in order to get my thrill, but sometimes you have to earn those thrills in life, don't you?
If asked which was the greater thrill, coming face to face with a Great White shark or winning a Paralympic medal, all I would say is that the two thrills are very different…and neither came easily!
I'm a determined person, I'm aiming for more tennis glory this summer, starting with Roland Garros – the French Grand Slam.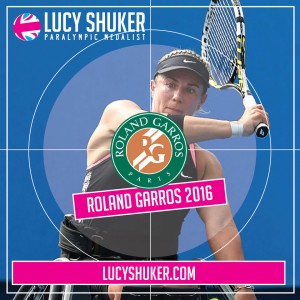 Yes, I've made another Slam, I'm seventh in the world and that means I've won the right to battle it out with the best on clay in Paris. Exciting!
My results in South Africa in April were good and maintained my standing, though I still feel I could have beaten Jordanne Whiley in our South Africa Open quarter-final.
EDGED
I had set points in both sets but she edged me 7-6(8) and 7-6(7) and fair play to her for coming through. I know what I've got to work on!
What secured my ticket to Roland Garros was the way I played in America. I beat the world number three, Aniek Van Koot in Pensacola and reached the final there.
If the matches hadn't been so closely packed together due to bad weather, I honestly think I could have gone one better. As it was, I lost the final 2-6, 5-7 to the Dutch world number six, Marjolein Buis.
STEAM
I beat the world number 9, Diede de Groot 6-3, 3-6, 7-5 in our quarter-final, despite another rain-delay.
But again it meant little more than an hour's break before the semi-final, and this time Van Kroot beat me 7-6, 6-1, as I felt I just ran out of steam.
Nevertheless, I was happy with my form in the USA and overall my game has never felt stronger.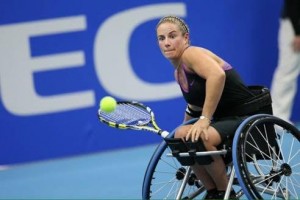 For me the ultimate aim this year is to win a Paralympic Gold Medal in Rio –
And of course I would love to win a Grand Slam title before that too!
I'm not just going to Paris to make up the numbers. I've never felt so confident in my game, so why shouldn't I be able to challenge for the title itself?
TRACTION
Obviously you lose some traction when you're moving a wheelchair on clay, so it won't be easy in Paris. But the Roland Garros courts are superb, they suit my top-spin game and my drop-shots, so I'll be ready when the time comes.
We also have Wimbledon in July and this year is the first year that singles is going to feature as part of the wheelchair event.
EXCITEMENT
I have a few more weeks of training in the UK before it all starts but as I said;
I'm feeling really good and looking forward to the excitement of the tournaments ahead.
Hope you'll be keeping an eye on them too!
That's all for now,
Lucy
For the latest from this wheelchair tennis star, keep reading our monthly blog updates. Head over to our Wimbledon Tickets Page to see Lucy Shuker in action this summer!
Browse the blog
---
Latest Posts
---