---
WDHSponsors
January 28, 2016
It has been a tour of mixed emotions so far, playing some really good tennis and acclimatising well. I have just finished my final warm up tournament, the Melbourne Open, eventually losing to the World No. 4, Sabine Ellerbrock in the Quarter Finals.
A 6-3, 6-1 scoreline is deceptively emphatic, however the match was a lot closer than the scoreline suggests, with most games going to deuce. In the end it came down to a point here or there. I played really well in the first set, played some really nice tennis, but failed to take my chances to get ahead. Perhaps it was that feeling of frustration that got the better of me in the second set!
I was a little frustrated as I don't like to lose, especially not in the last warm-up before the big one but the last three weeks have been about preparation and I feel like I am moving really well and striking the ball cleanly and it has all been about building for the Australian Open 2016.
The weather out here is much warmer than at home so it's important to be training and acclimatising as the temperatures on court can be brutal! I'm in very good shape going into the Aussie Open and that's what matters most right now.
Having been competing just outside Melbourne, surrounded by Kangaroos, I arrived in the city. I love Melbourne and it is great to be back and competing at the first Grand Slam of 2016. Melbourne is very laid back and Australian Open fever literally takes over with huge screens in Fed Square and everyone talking about the tennis. The hotel is really nice and it's right in the city and close to the courts so getting around is super easy.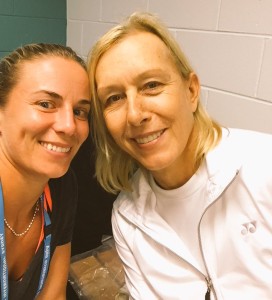 Tournaments have been back to back for us since the beginning of January so it will be nice to grab a few days of downtime at the weekend. It's one of the only times of year that the wheelchair tennis tour is integrated into the able-bodied tour, competing at both the lead-up events, the Brisbane International and Sydney Apia tournaments, alongside big names and legends including, Federer, Dimitrov, Raonic, Tomic, Halep, Sharapova, Stosur, Hingis to name a few. I was also lucky enough to share the locker room with an absolute legend of our game, Martina Navratilova in Sydney. She is a very lovely lady and always says hello.
I'll keep you all updated with how I get on
That's all for now!
Lucy Shuker
(22nd January 2016)
To see Lucy and other athletes play in the UK, Buy 2016 Wimbledon Tickets here.
Browse the blog
---
Latest Posts
---