---
Locker Room
April 23, 2018
Rafael Nadal's sweeping backhand clinched his eleventh triumph at Monte Carlo, with a 6-3, 6-2 win over Kei Nishikori.
It meant the popular Spaniard retains his world number one status for now. And few would bet against him underlining that dominance at the French Open in Roland Garros, too.
Nadal gazed up to the blue heavens beyond the cliffs of the principality and savoured the moment for all it was worth.
IMPROVEMENT
In truth, however, this wasn't vintage Rafa, for all his power and precision when it really mattered.
And the humble Nadal would be the first to admit that there is still room for improvement – even though he is already head and shoulders above his rivals on clay.
Rafa was broken by the dangerous Nishikori in the first set – and should probably have been broken once more, after he had battled back to win the next three games.
GLIMMER
The odd double fault showed that Nadal is only human. And perhaps he offered a glimmer of hope to his fellow competitors for the rest of the clay court season.
But even when he isn't totally on top of his game, Nadal seems to finds a way to step up a gear on this surface – using that incredible will to win.
Speaking of mental strength, Lucy Shuker showed plenty at the weekend too. Shuker, the wheelchair tennis star we are so proud to sponsor, helped Great Britain to seal a 2-1 victory over Russia in the BNP Paribas World Team Qualification in Vilamoura, Portugal.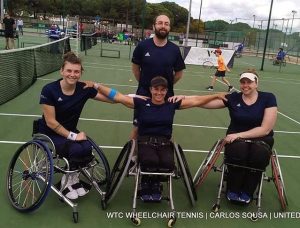 DRAMA
Resilient as ever, Shuker had to stay focused for nearly nineteen hours as rain delays prolonged the drama beyond midnight on the final day.
Not even the great Nadal faced a challenge like that before he picked up more silverware down on the Mediterranean.
No wonder the most famous superstars of tennis have a healthy respect for the wheelchair game and what the players go through to achieve their excellence.
PAIN
After her triumph over the Russians and a short sleep, Shuker tweeted: 'Smiling through the pain of an extremely long day that started at 5.30am and finished on court at 12.04am.'
The inspirational Shuker won all her singles and doubles matches throughout GB's qualification campaign against Austria, Sweden and Belgium. Now she will have her reward in a few weeks' time.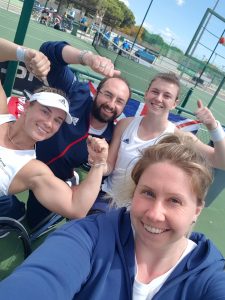 That's because GB will now test their skills and spirit against the very best at the World Team Finals in Apeldoorn, Netherlands, from 28 May to June 3
DELIGHTED
Shuker beat Russia's Viktoriia Lvova 6-3, 6-1 to edge GB towards their goal. Later she partnered Louise Hunt in the decisive doubles rubber to defeat Lvova and Polina Shakirova 7-5, 6-1. After those testing downpours, victory was sweet indeed.
Lauren Jones made a GB team full of the right spirit, and captained by the Tennis Foundation's Performance Development Coach, Ash Smith.
A delighted Lucy said later: 'It's really great to have the GB women's team back on the world stage at the World Team Cup event.
TOUGH
'This was physically tough with some really early mornings and late finishes, but it's always an honour to play for your country and we worked hard to get the win on the final day.'
Check out the wheelchair tennis at Wimbledon 2018. It is awesome and brings a whole new perspective to our glorious sport.
Browse the blog
---
Latest Posts
---