---
Locker Room
May 1, 2018
Lucy Shuker beat top seed Katharina Kruger to win the Israel Open;
The latest chapter in a stunningly successful first third of the year for the irrepressible Brit.
Meanwhile Rafael Nadal saw off all contenders in Barcelona, notching his 400th clay court win.
In the Barcelona final he defeated the Greek teenager, Stefanos Tsitsipas 6-2, 6-1 to claim an incredible eleventh title there.
GREATEST
Nadal is surely the greatest clay court player of all time. But Shuker is arguably the greatest wheelchair tennis player in the world, when you take into account the fact that her level of disability is far more severe than the other women on the circuit.
Shuker is actually ranked eighth in the world – partly because the amount of physical restriction she has to overcome is not fully recognised, at least not in terms of separate competitions for women of similar disability levels.
Not that Lucy ever complains. And she simply said this of her victory over her German opponent in Israel:
'I think 2018 has been a great year so far in terms of doubles titles, winning the Sydney Super Series, Georgia Open and Cajun Classic Super Series titles.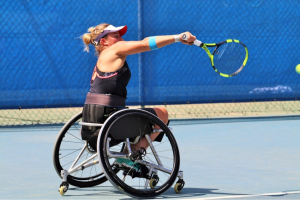 ENCOURAGING
'But last week in Israel I was really happy to secure my first singles title of the year, beating the World No. 6 in the final 6-0 6-2.
'This was a really encouraging performance for me and I was also really happy to bring home the Israel Open doubles title, teaming up with fellow country-woman Louise Hunt.
'It has been a good couple of weeks of competition for me, following the World Team Cup Qualification event in Portugal in which I was part of the GB women's team that qualified for the World event at the end of May, beating Russia in a doubles showdown that finished just after midnight.
GOALS
'Thank you for all your continued support, it really is instrumental in helping me to achieve and strive towards my goals.
'My next set of competitions in May are the Korea Open and Japan Open, I will keep you updated with how it all goes out there.
Many thanks as always,
Lucy'
Go Lucy! We think you are fantastic – and we reckon the best way to express that for now is to put you on a par with Nadal again this week – because Rafa wasn't too shabby in Barcelona either!
Browse the blog
---
Latest Posts
---