---
Wimbledon
June 25, 2018
Wimbledon Is Only Days Away And Even Dior Homme Is Feeling Its Influence.
It is not easy to find the right clothes to wear to such a prestigious sporting event like Wimbledon, especially for Men. Well-respected establishments like Wimbledon certainly have a strict dress code.
Anyone can fall afoul of wearing clothes that are too casual and run the risk of not being allowed into the exclusive Debenture area, to wearing clothes that are so formal you feel uncomfortable and can't enjoy yourself, particularly in the heat. Wearing fashionable clothes and respecting the dress codes can be a real headache. Thankfully Men's fashion is catching up. Here are some of the best outfits that we think would be perfect for your visit to Wimbledon.
Kim Jones' debut show for Dior Homme is a rip-roaring success. Tennis whites definitely feel they are the theme of the show. Jones didn't stray too far from his signature sportswear-infused aesthetic. A slight feminine influence could be felt with the choice of colour palette, heavy on tennis whites and the house's signature pink and grey. Complimented by gentle tailoring demonstrating this style works just as well for women as for men.
"People just want to be more comfortable, I think. It's not so uptight, anymore." explained Jones.
The only garments truly frowned upon in the Debenture seating at Wimbledon, are torn jeans and sportswear, such as vests, dirty trainers, flip flops and running shorts.
Some On The Court Fashion Advice From Roger Federer.
"I used to wear jogging shoes, jeans and a practice shirt, then when Mirka met me, she would look and go, 'Errr, are you sure about this look?' Over time, I realised I needed a suit, a tie etc. And by the third time wearing the same tie on the red carpet, I was like, 'Maybe I should have different ties, different suits, different black shoes for a change.'
I started to enjoy making changes, trying out a few things, different combinations. I am happy to get dressed up, especially in the big cities like Paris, London or New York and go out." At Wimbledon, I tried to bring back the history of the game when they walked out in jackets or cardigans. We tried to push the envelope – sometimes a bit too much. But it was fine. These moments stay memorable, and I was willing to take chances." Interview in GQ magazine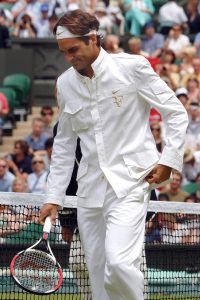 Federer at Wimbledon in 2009
All photos provided by Getty Images.
Want Tickets.
You can still acquire tickets and be apart of the best action, click the buy-wimbledon-tickets link to go to our purchasing page.
Browse the blog
---
Latest Posts
---