---
Locker Room
July 1, 2016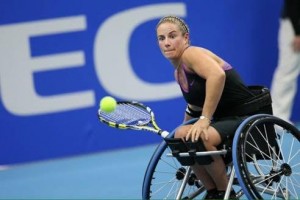 It's official! I'm going to Rio for the 2016 Paralympics! The British Paralympic Association has confirmed the Tennis Foundation's wheelchair team selection and we had our launch at the Houses of Parliament on Tuesday!
Although I had qualified as part of the ITF's world ranking process, it's still a thrill when everything is confirmed by the British Paralympic Associaiton.
I'll also be playing doubles in Rio alongside Jordanne Whiley, with whom I won a bronze medal at the London 2012 Paralympics. It's definitely much easier to have her on my side than to see her on the other side of the net!
But it isn't just about qualifying. Now I want to contest for medals out there. It's not going to be easy. The women's division is both wide open and highly competitive at the moment. But I enjoy the challenge of both training hard and competing.
There are still a handful of tournaments for us before Rio – and the next week is going to be particularly special because it is all about Wimbledon!
That's another massively exciting challenge and it is the first time we will be playing singles there. That's going to be interesting!
As I write, I don't know whom I'll be playing first at Wimbledon yet, the draw is done on Tuesday 5th July – but I'm going to give it everything as always.
Grass means there will be very few if any long rallies – and that suits my game because you have to strike early with a big serve or return.
It's the second Slam in the space of a few weeks and Roland Garros didn't quite go according to plan. I was drawn against Marjolein Buis and although I lost the match, I can take some positives from the fact that I took a set off the eventual winner of the tournament.
Now I've got to take my tennis onto the next level and make sure that when I am enjoying a winning run of games, I can maintain the momentum for long enough to actually beat the best – no matter how fast they are.
Preparations for Wimbledon have been complicated slightly by the recent rain, but I've been playing on an indoor carpet. That surface is similar to grass in the way it behaves and how tough it is to manoeuvre the chair.
Hopefully, with the weather starting to improve, I'll be able to get out on the grass courts at the National Tennis Centre to make sure I'm at the top of my game for the main action, which is from Thursday 7th through to Sunday 10th July.
If you're at Wimbledon, come and take a look at the action on Courts 14, 15, 16 or 17. You should see some good wheelchair tennis on display, with the top players from all over the world competing.
I'm determined to well at Wimbledon and Rio. So thank you for supporting me – and I'll keep you posted on my progress.
That's all for now.
Lucy
Browse the blog
---
Latest Posts
---